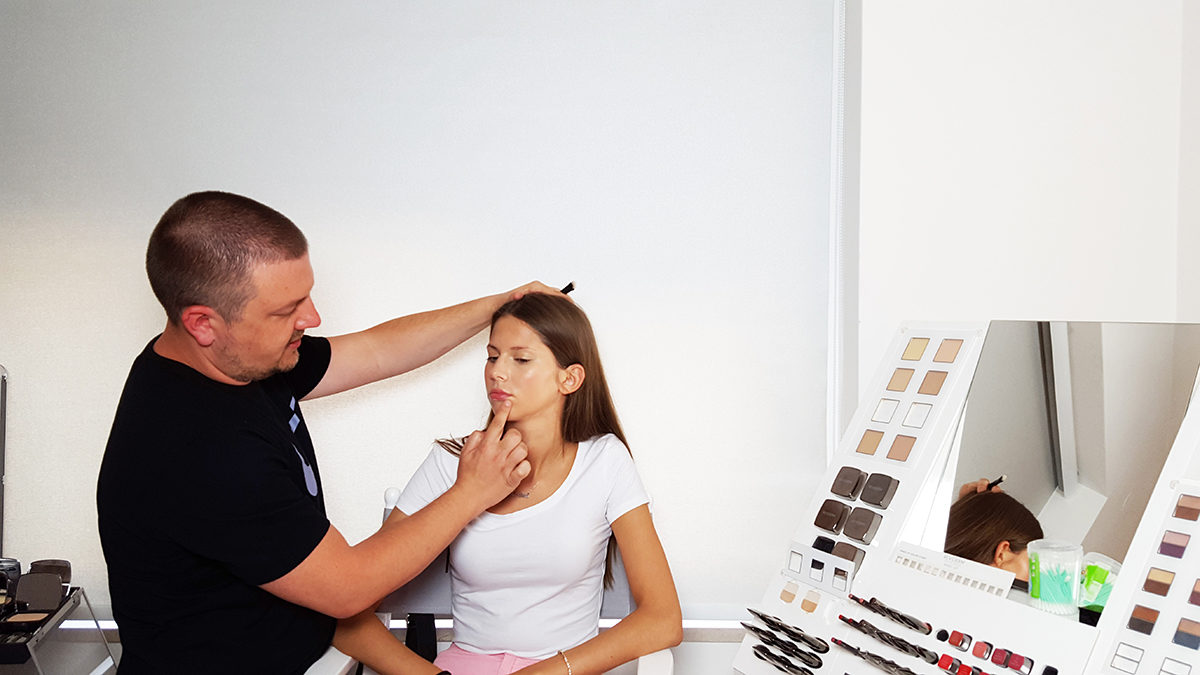 Kada si shvatio da je make – up ono čime se želiš baviti u životu?
Oduvijek sam znao da me to zanima, još kao mali sam šminkao lutke s maminom šminkom. Mami bih krao šminku, s čim nije bila baš oduševljena.


Kada bi morao izdvojiti neku osobu/ događaj / reviju koja ti je posebno ostala u sjećanju, koja bi to bila?
Revija Mcqueen kada sam prvi put asistirao u Parizu glavnoj šminkerici Charlotte Tilbury. Tada sam prvi put vidio sve top modele iz časopisa u živo i bio poprilično preplašen, ali bilo je stvarno iskustvo za sjećanje.


Prepoznat si kao izniman edukator u svom području. Da li uživaš u tom dijelu svog posla?
Pošto sam samouk počeo šminkati, znam što je u make-up-u najteže i što većinom početnici ne razumiju, tako da nakon godina iskustva volim raditi s mladim vizažistima i pokušavam im usaditi jednaku ljubav prema make-up-u.


Koje bi dobre strane i one manje dobre izdvojio kod tvog zvanja?
Dobre strane su energija koja me ispunjava dok šminkam i ljubav prema tom poslu, uljepšavanje ljudi što ih čini sretnijim i sigurnijim. Negativno: naporni egocentrični energetski vampiri koji imaju poremećen sustav vrijednosti koje na žalost često susrećem.


Veliki si pobornik mineralnog make-up-a. Misliš li da je to samo trend ili budućnost profesionalnog make-up-a?
Volim mineralni make-up jer je jedna od grana make up-a koji se konstantno usavršava. Kroz dugotrajnu praksu shvatio sam da make up ne mora štetiti koži, da je i ljudima bitno što im stavljam na lice i da su sigurni da nije nešto što će im utjecati na ten i kvalitetu kože. Upravo zato sam se odlučio raditi s REVIDERM-om. Imaju kvalitetu i filozofiju koju podržavam, proizvodi su "skin friendly" ali ipak profesionalni i pružaju dovoljno pokrivanja.


Što po tebi izdvaja REVIDERM od ostalih mineralnih make-up linija na tržištu?
Vrlo fina dijamantna prašiina u puderima koji imaju sve karakteristike profesionalnog make-up-a (postojanost, pigmentacija, različit stupanj prekrivanja…).


Kako definiraš dobrog vizažista? Što mora imati u svom make-up koferu?
Dobar vizažist mora imati sigurnost koju dobije kroz godine rada i strast s kojom je rođen.
Od make-up-a smatram da mora imati osnove što uključuje podloge, korektore i razne palete sjenila i naravno dobre kistove.


Što je po tebi bitnije, talent ili iskustvo?
Iskustvo i posvećenost poslu prije svega, talent je jako rijedak i sretni su oni koji ga posjeduju.


Tvojih 5 top proizvoda koje trenutno koristiš?Reviderm loose minerals foundation ,vodootporna maskara, olovka za usne , ruževi i korektori u kremi koje obožavam.


Što bi poručio osobama koje žele postati vizažisti?
Danas je biti vizažist postalo popularno no potrebne su godine rada da bi postali dobri u tom poslu.Instagram make-up artisti s milionima sljedbenika u modi uopće ne postoje i potpuno su nerelevantni tako da da je moja preporuka: počnite asistirati i učiti, radite i nikad ne povjerujte da ste najbolji jer u tom trenutku ste propali.